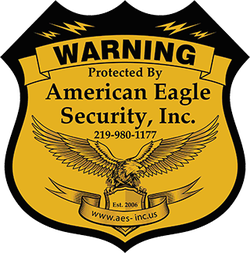 Security Services
Home Security In Northwest IN
We serve the fire protection and property protection needs of both residential and commercial clients throughout all of Northwest Indiana Lake and Porter County, as well as Starke County, IN.

GET YOUR FREE SECURITY SURVEY TODAY!
Business security today is much more than fire and burglar alarms. It's about an integrated network of services and technology that helps electronically protect your assets and your employees.

We offer integrated services from access control, to digital video systems, to a full range of intrusion and environmental protection systems. Whether you are a small business or a Fortune 500 company, American Eagle Security understands that the security needs for every business are unique. We take the time to help design the business security system that's best for you.

Your business might be in need of a simple burglar alarm, fire alarm or perhaps a complex digital video surveillance system – in any situation, the talented sales and technical teams at American Eagle Security Inc. can tailor a security system to meet your business' needs.
---
For Commercial & Residential
Alarms

Protecting a business or home and those who live within from the threats of intrusion, fire, carbon monoxide and other environmental risks takes a combination of top technology and split-second response. Since 2006, American Eagle Security Inc. customers across Northwest Indiana have been protected by reliable, responsive home security systems. These security systems are backed by the experienced staff at our 24 hour UL listed Monitoring Facility who are always on guard to react to any emergency at your home. It's important to know that your home security company can be trusted to keep your family safe and sound in the event of an emergency. American Eagle Security Inc. has been serving its customers for over 10 years and takes pride in ensuring the safety of all its customers from fire, burglary, carbon monoxide and more.
When you need specialized security

The realities of today's society can impose a higher demand for security on certain individuals because of their position in the community or their economic status. To meet this specialized need, our staff has worked discretely with such individuals to craft and implement security plans to protect their homes and their families.

​Here at American Eagle Security Inc., we understand how important it is to take the necessary precautions and measures to keep you, your family, your home or business, and everything you've worked hard for, safe from unwanted intrusion, theft, and loss.

Access Control

Access Control regulates the movement of people coming into and within the building to help protect your employees, your property and your company information. You will avoid key issues, and have the ability to track people on your property at any given moment. This is a cost effecient way of preventing unauthorized entry - also providing records of anyone on you premises.
---
With over a decade of solid commitment to providing exceptional fire systems, security systems, and other services to ensure our clients' utmost safety and peace of mind, we are a proud member of:
- The Merrillville Chamber of Commerce
- The Indiana Burglar Fire Association
- The National Fire Protection Association
- We also have a state of the art, Five-Star UL listed monitoring station that operates 24/7.
Here at American Eagle Security Inc. we exist to take care of our clients' safety and security. We take pride in delivering trusted services that take care of the work and lives of others, and are committed to being there when you need us.
(219) 980-1177

​Our office hours from 9:00 am to 6:00 pm, Monday through Friday
​Our normal installation & service hours are from 7:00 am to 6:00 pm, Monday through Saturday
​Emergency service 24/7 call
(219) 290-2636